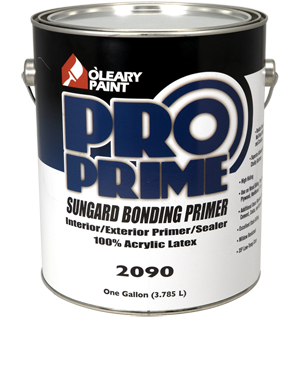 ProPrime Sungard Primer
Bonding Interior/Exterior Primer, Sealer
Features
An exceptional quality 100% acrylic, multi-purpose, interior/exterior latex primer and stain killer. Formulated for use on drywall, wood, masonry, galvanized metal, aluminum, and previously painted metal. O'Leary ProPrime also lengthens the painting season because it is a 35F low-temperature cure and early moisture resistance product. Our best latex stain killer for water stains, lipstick, smoke, ink and crayons. Resists nail head and tannin staining. This blister resistant, fade resistant coating is easy to apply and water thinnable. Apply by brush, roller, or spray.
Where To Use:

Wood
Masonry
Brick
Cement / Asbestos
Hardboard
Ferrous Metal
Galvanized Metal
ProPrime Bonding Primer
O'Leary Color Code
Competitor Color Code*
Finish
Size
Price
Purchase
*
Enter a color code from any major paint manufacturer, and O'Leary Paint will match it.